May 30, 2023
Global Seminars Expand Worldviews and Create Lasting Bonds
In spring 2023, sophomores in the College of Arts & Sciences (the College) had the opportunity to take part in a new educational program coordinated by the College and the Office of Mission & Ministry. It did not take much to persuade Georgetown's already globally-minded students to apply for the College Global Seminars, a new College initiative within Mission & Ministry's Magis Immersion Program, which incorporated a one-week study-away experience during spring break to Nepal, Jerusalem, Greece, Italy, or the American South – all at no additional cost.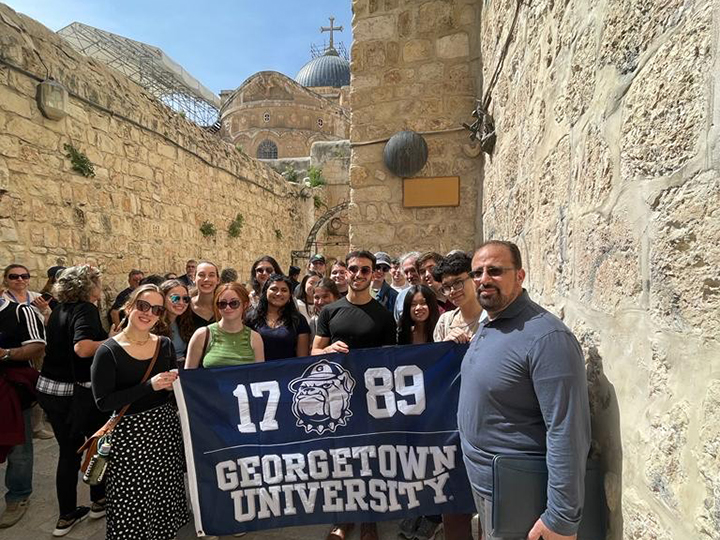 Integrating Classroom and Experiential Learning
The courses began on campus as traditional lecture-based seminars for the first half of the spring semester before transitioning into an immersive study-away experience over spring break.
A distinguishing characteristic of these seminars was that a chaplain from the Office of Mission & Ministry accompanied students both in the classroom and on their study-away experience. The chaplains provided an opportunity for students to engage more deeply with the Spirit of Georgetown values that animate our community life—from interreligious understanding to community in diversity.
The short-term study-away experience was attractive to some students who were interested in the idea of a traditional semester or year-long study abroad experience but prioritized their on-campus activities. Lucia Lavallee (C'25), a biology major with ambitions to pursue a Ph.D. program upon graduation, jumped at the opportunity to apply, noting that the seminars "were a great way to do a little bit of a study abroad program without having to compromise courses or research."
The spring break trips engaged students with a mix of activities, including sightseeing with tour guides, classroom instruction with their professors and chaplains, and interactions with local people and organizations.
Jerusalem and the Challenge of Peace
Lavallee was admitted into the Jerusalem and the Challenge of Peace course taught by professor Ori Soltes at Georgetown's Center for Jewish Civilization. The course examined, among other questions, how Jerusalem evolved as a focal point in the Jewish, Christian, and Muslim traditions, and included a spring break trip to Israel and Palestine.
Reflecting on the spring break trip, Lavallee remarked that "it's one thing to learn about an issue as a concept, and it's a very different thing to experience it." She now has a better understanding of the Israeli-Palestine conflict after having experienced day-to-day life in the region. Unlike reading the headline events in news articles, she realized that the conflict "is so much less at once, but you can see how it adds up and how it impacts every single aspect of people's lives."
Rev. Jerry Hayes, S.J., director of Ignatian Programs, and Imam Yahya Hendi, Muslim chaplain and director of Muslim Life, served as chaplains for the course. Lavallee reiterated how beneficial it was to have Professor Soltes, Fr. Hayes, and Imam Hendi make up the teaching team.
"It gave us the least biased perspective possible because each one was acting as a spokesperson for a religion and advocating for that religion's views of situations."
Reading St. Paul in Greece
Sophomore Sarah Sisto (C'25) participated in the Reading St. Paul in Greece course taught by Department of Theology and Religious Studies professor Alan Mitchell. Sisto, a government major, decided to apply because of the novel opportunity and her interest in theology, which developed after taking the Problem of God and Religion and Conflict theology courses during her freshman year. Professor Mitchell's course studied Paul of Tarsus' missionary activity in the Eastern Roman Empire and the letters he wrote to the Christian communities he established in Corinth, Thessalonica, and Philippi in Greece and Galatia in Asia Minor.
Over spring break, the students followed in the footsteps of Paul by visiting Athens, Corinth, Thessaloniki, Philippi, and the Greek monasteries of Meteora. Growing up in the Catholic Church, Sisto had known about the letters of St. Paul but had only considered them through a religious lens rather than a historical one. During the spring break trip, the class visited the jail where St. Paul wrote his letters, which helped her to understand his humanity, and visited some Greek Orthodox monasteries, which helped her to understand his role in history.
"Seeing how Paul's teachings started these Christian communities that are now all over Greece and a huge part of Greek culture brought religion into reality for me. It helped combine the history and faith aspects."
Building Lasting Friendships
Upon returning to campus, students undertook an independent study project–overseen by their course instructor–to complete the course. Lavellee wrote about the biases in tourism in the eastern Mediterranean region, while Sisto wrote a reflective piece about what she learned over the course of the semester told through some of the photos she took while on the ground in Greece.
The students who participated in these global seminars completed their sophomore years not only with expanded worldviews, but also with new, lasting friendships.
One of Lavallee's most vivid experiences while abroad was taking part in a traditional Shabbat dinner with a local family. For her, it was a memorable culminating event in which the group could share what they had experienced and learned while also making friends and connections over a meal.
Similarly, for Sisto, her favorite part of the spring break trip was the nightly dinners with her classmates, which often lasted three to four hours and allowed the class to converse and reflect on what they saw and learned that day.
Professor Mitchell enjoyed seeing the students in his Reading St. Paul in Greece course bond, which he believes was because they were all grateful for this opportunity to be abroad, to learn, and to share the experience with their classmates.
"Their gratitude overflowed into a generosity towards one another and they couldn't do enough for each other. It was really a marvelous thing to watch."