July 19, 2022
Georgetown Delegation Tours Southeast Asia
In June 2022, Vice President for Global Engagement Tom Banchoff and School of Foreign Service Dean Joel Hellman traveled to Southeast Asia to connect with alumni and international partners.
During the last week of June 2022, Vice President for Global Engagement Thomas Banchoff accompanied Dean Joel Hellman of the Walsh School of Foreign Service on a trip to Singapore and Indonesia. The visit was an opportunity to re-connect with Georgetown alumni and parents now that travel restrictions due to the COVID-19 pandemic have eased and to explore new possibilities for cooperation with governments and universities in the region.
"Georgetown and the School of Foreign Service are committed to deepening our engagement in Southeast Asia," said Hellman. "Our students and faculty are eager to expand their learning and research opportunities across the region."
At the heart of the trip were two public events centered on the challenges facing Southeast Asia amid intensified U.S.-China competition in the region: one co-sponsored with the East Asian Institute of the National University of Singapore; the other hosted at the U.S. ambassador's residence in Jakarta. Professor Evan Medeiros, the Penner Family Chair in Asia Studies in the School of Foreign Service, anchored both events.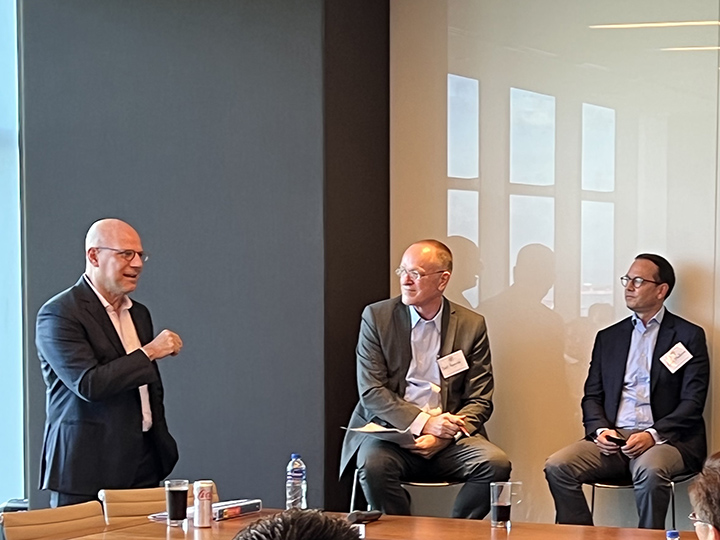 Outreach to alumni, students, and parents was one of the primary goals of the trip. Receptions and dinners in both Singapore and Jakarta brought together alumni for fellowship and updates on the state of the university. One highlight was a lunch for parents and students back home in Singapore for the summer.
The delegation also had successful meetings with education and policy leaders in Singapore and with the Indonesian minister of education. After leaving Jakarta, Banchoff visited Sanata Dharma University in Yogyakarta, a fellow Jesuit institution, to explore potential collaborations.
"Southeast Asia is critical for Georgetown's overall strategy for engaging with Asia," said Banchoff. "We look forward to further deepening our ties with our alumni in the region and seeking out new partnerships that advance our academic mission."